COMMANDO N°4
Plages orange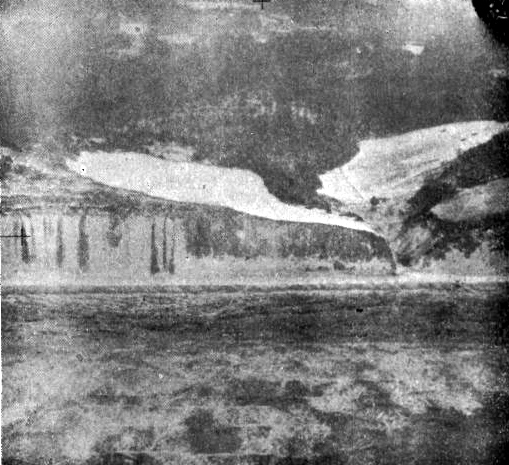 Photos d'époque (Archives du Canada)
253 hommes commandés par le lieutenant-colonel Simon FRASER Lord LOVAT 17ème du nom dit "Shimi", (celui ci a effectué tout le raid en pantalon de velours et sweater gris, carabine sous le bras. Nous le retrouverons le 6 juin 1944 dans cette tenue). Comme leurs camarades du commando n°3, ces hommes viennent de diverses unités et seront inhumés sous le nom de leur unité d'origine. Ces hommes, tous volontaires pour les commandos, ont été sévèrement sélectionnés. ils sont en moyenne plus agés que dans les autres unités (28 ans en moyenne).
Lord LOVAT
Cette unité a déjà participé à des opérations en Europe occupée, le raid de Saint Nazaire notamment.
Au soir du 19 août, le commando a perdu 2 officiers et 9 hommes tués et 35 hommes sont blessés.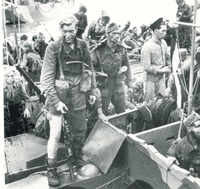 Le retour des commandos (Archives britanniques)
Nous retrouverons le 4 ème Commando lors de la Bataille de Normandie au sein de la 1 ère Brigade de Commandos.
Ils sont venus un matin d'août 1942 : They came one morning of august 1942
lance corporal AITKEN

correspondant de guerre AUSTIN

lance corporal L.BISHOP (Somerset Light Regiment)

captain "Bill" BOUCHER-MYERS

Ernest BROOKS

BURREL

Joe BURNETT

lieutenant Knyvet CARR

lieutenant Len COULSON

private John DALE

Barney DAVIES

soldat DAVIS

capitaine Robert DAWSON

sergent-major James DUNNING

sergent Jimmy DUNNING

lieutenant J.F.C. ENNIS

FAILLE (South Saskatchewan Regiment)

soldat Bill FINNEY

soldat FLETCHER

corporal Jock FRASER

private Wiilliam Owen GARTHWAITE (Loyal Regiment North Lancashire)

lieutenant Donald GILCHRIST (Régiment des Fusilliers Ecossais)

private Frederick M. GOOTH (East Surrey régiment)

lance corporal Edward P.H. HECKMAN (Royal Berkshire Regiment)

private HORN (ou HORNE)

HURD

KARESA (South Saskatchewan Regiment)

KEELEY

lance corporal J.KEENAN (Royal Ulster Rifles)

private KNOWLESS

lieutenant-colonel Lord "Shimi" LOVAT

soldat Mac DERMOTT

lieutenant J.A. MacDONALD (Royal Dragoons)

gunner MacDONOUGH

private S. MacGANN (South Lancashire Regiment)

sergeant Jimmy MacKAY

corporal "Dickie" MANN

gunner MARSCHALL

lance corporal D.J.MERCER (King's regiment)

lance corporal Alexander MILLS (South Lancashire Regiment)

major Derek MILLS-ROBERTS

lance corporal J.MOSS (Loyal Regt)

sapper MULLEN

infirmier PASCALI

capitaine R.G. PETTIWARD (Bed. Herts. Regiment)

major Patrick A. PORTEOUS Victoria Cross

Bill PORTMAN

PRICE

corporal John SKERRY

corporal SMITH

officier des renseignements Tony SMITH

sergeant-major W.R.STOCKDALE

lieutenant David C. STYLE

private George H. SUTTON (East Yorkshire Regiment)

signalman George Arthur TUCKER (Royal Corps of Signals)

lieutenant A.S.S.VEASEY

rifleman J.WATTERS (Royal Ulster Rifles)

sergeant WATKINS

capitaine Gordon WEBB

lance corporal John WHATLEY (Oxford et Bucks Light Infantry)

G.D.S.M. J.WHITTAKER (Grenadier Guards)
Derek Mills-Roberts sera Brigadier-Général de la 1st Brigade Special Service pendant la campagne de Normandie 1944.
Lord Lovat sera blessé sous Bréville, au début de la Bataille de Normandie 1944.
le sapper Mullen sera tué sur Sword beach le 6 juin 1944.
Suite des unités
Continuation of the units